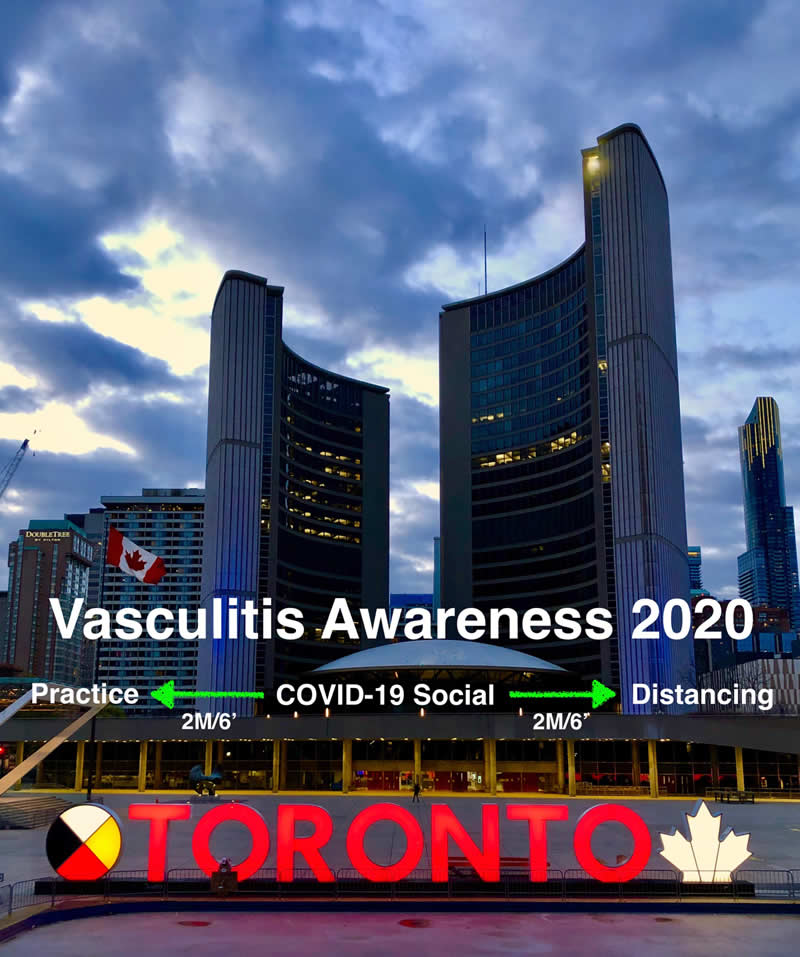 Toronto proclaims Saturday May 9, 2020 Vasculitis Awareness Day and further marks the occasion by illuminating the iconic Toronto Sign in red, the colour of vasculitis. All this coincides with the annual designation of the month of May as International Vasculitis Awareness Month.
May 6, 2020
by Jon Stewart
The office of Toronto Mayor John Tory announced on Wednesday, May 6, 2020 that the City of Toronto will proclaim Saturday, May 9, 2020 as Vasculitis Awareness Day in the City of Toronto. See the official proclamation below. Furthermore, the City will illuminate the iconic Toronto Sign situated in Nathan Phillips's Square, directly in front of Toronto's new City Hall, in the colour red to visually mark and identify the day.
May is International Vasculitis Awareness Month and Vasculitis Foundation Canada is hosting a special ZOOM meeting on Vasculitis and COVID-19 as part of its vasculitis awareness activities. Patients across Canada, the U.S. and beyond will join a team of top Canadian vasculitis researchers and clinicians to discuss issues related to vasculitis and COVID-19, as well as answer questions from vasculitis patients.
Speakers include:
Katherine Siminovitch, M.D., FRCP(C), Professor of Medicine, Rheumatologist, Geneticist, Senior Investigator at the Samuel Lunenfeld Research Institute of Mount Sinai Hospital, Toronto. ON.;
Christian Pagnoux, M.D., M.P.H., Assistant Professor, Vasculitis Clinic, Division of Rheumatology, Mount Sinai Hospital, Toronto, ON;
Nader A. Khalidi, MD, FRCP(C), Professor of Medicine, McMaster University, Head of Service, Rheumatology, St. Joseph's Health Care System;
Stephanie Garner, M.D., MSc, FRCP(C), McMaster University and 2020 Recipient of the VCRC & VF Fellowship Award;
Mats Junek, M.D., MSc, (HRM), McMaster University. COVID-19 Team Leader  
The vasculitis community is at increased risk to COVID-19 and vasculitis patients are advised to take extra precautions and stay safe in these challenging times. For more information on this COVID-19 ZOOM Meeting please send an email to: [email protected]