The 2014 AGM will be held on April 26, 2014 at the Ballantyne Hall of the Wesley United Church (3 Cambridge Street, Cambridge, Ontario). During this meeting, we will:
receive the Directors report on current and future business;
receive Treasurer's report on fiscal year 2013;
vote to elect new officers and directors; and
vote to approuve the new by-laws to be compliant with the new Article of Continuance.
If you are unable to attend the meeting, please give your proxy to another member or return us the proxy form filled. Your vote is really important for that meeting as we will discuss the Article of Continuance. This year, we will also have two special presentations. One with Cameron Shaver from the Ghostbusters Ontario who organized a fundraising activity and another one with Gena Brummitt, our main speaker, from CORD.We hope to see you there.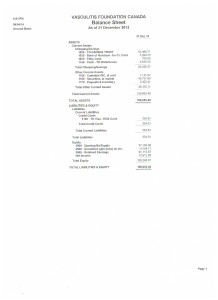 VFC proposed by-laws for member approval April 9, 2014