Perfect summer weather was just part of the fun that made the 21st. Annual VFC Picnic and 26 Reasons to Walk a big success for about 100 vasculitis patients, family and friends.
It was fun in the sun as about 100 vasculitis patients, family and friends thoroughly enjoyed the 21st. Annual VFC Picnic and 26 Reasons to Walk.  The day was a great opportunity to meet, and greet fellow patients, old friends, and to see many new faces in the growing vasculitis and VFC family.   Between, walking, eating, entertainment and a little competitive prize bidding everyone got to meet other vasculitis patients, and share some "fun but serious" vasculitis stories with friends and family.  Together, we raised vasculitis awareness, and very close to 15K in funds for research and patient education.  And, you can still make last minute donations to help push us over the 15K mark by going to the registration website, and clicking the DONATE tab, located here: http://vfcan.convio.net/site/TR?fr_id=1100&pg=entry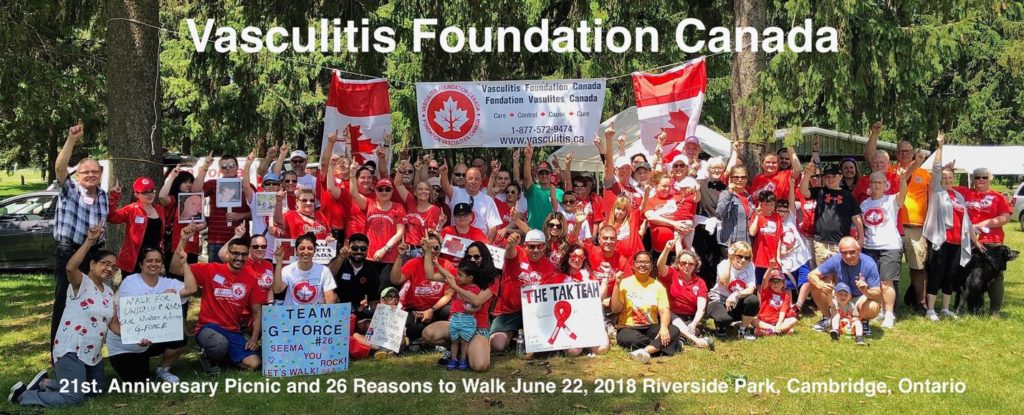 Our 21st Annual Picnic and 26 Reasons to Walk was a big success thanks to our volunteers – and many of you!
Many thanks to the numerous prize donors who allowed this years Picnic and Walk attendees to their luck at winning some great prizes. Others bid on "select" donated prizes, and sometimes won them!  In the end, we had a great time, for a great cause, in the great outdoors, and we didn't leave any leftovers after our tasty BBQ
Organizing a successful picnic and walk can only be done with an active group of volunteers. Special thanks go out to: Sheri-Leigh Liddard for the overall picnic & walk organization etc; Jerry Whetham & Kin Club of Cambridge for handling another of our BBQ's, and cooking for 100 hungry (and often prednisone fueled), participants; Paul Pittaway and family for van pick-up, table supply, set-up/tear down and food & drink co-ordination etc; Joanne Leonardo, for set-up/tear down, bag and shirt distribution etc; Carol Moller/Jon Stewart for check-in & registrations, eBlasts etc;  our VFC Blackbaud volunteer for constructing the Blackbaud registration site & its implementation,  The Romanko family (Dorothy, Grenville, Mark) for gift baskets, donation table set-up, set-up/tear down, gift card procurement & sales, and to Mark our fearless walk leader; Nancy Martin, and team, for ticket sales etc; Ann and Audra Turuta, for prize table set-up, etc; Cindy and Ian Foster for gift baskets, set-up/tear down and more; Nancy and Bion Kosiner for the 800 line and Jim Berger, for being the first to arrive and the last to leave! 
Special acknowledgements go to the following teams who went above and beyond in organizing their teams, recruiting team members, and raising funds: Team Behcet's/Cindy Foster & Tracey Moorley, Team Romanko, Team Nancy Martin, The Tak Team/Lucy DeMatos, Team "G" Force, Helen's Angels, and Team Berger, thank you for going above and beyond!
We can't do anything without our volunteers.  If you have a special talent or you'd like to help us advance the VFC cause, feel free to join us, you can always reach out to us at [email protected] for more information.

A perfect day for walking too!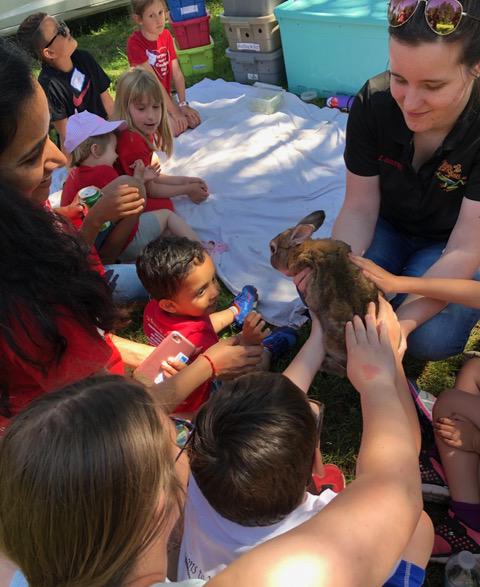 It was Zoo with ZooToYou!
It's amazing how much fun some friendly animals can be for children and adults alike!
See you at next years 22nd. Annual Picnic and 26 Reasons to Walk!