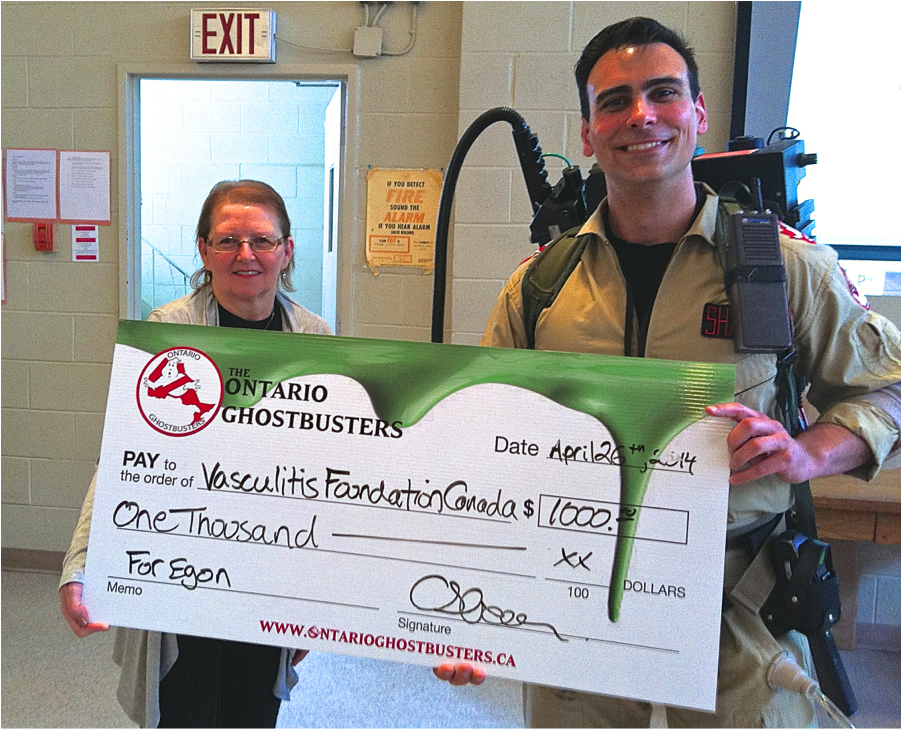 Thank you Ghostbusters Ontario
"For Egon" in memory of Harold Ramis
The Ontario Ghostbusters presented the Vasculitis Foundation Canada (VFC) with a cheque for $1000.00 at their Annual General Meeting this past April to recognize and honour the memory of Harold Ramis. Many vasculitis patients were saddened to learn of the death of Harold Ramis on February 24, 2014 at just 69 years of age. The comedic actor, writer and director known throughout the world for popular movie hits such as "National Lampoon's Animal House", "Stripes", "Ghostbusters", "Caddyshack", "National Lampoon's Vacation", "Groundhog Day" and many more ventures including head writer for Second City TV.
Essentially unknown to the vasculitis community, Ramis was quiet about his illness, which ultimately took his life due to complications from autoimmune inflammatory vasculitis. It has been reported that his serious health struggles began in May 2010 with an infection that led to complications related to the autoimmune disease, he had to relearn how to walk and suffered a relapse of vasculitis in late 2011 and never fully recovered.
Cameron Shaver of Ghostbusters Ontario, dressed in full costume and looking a little bit like Canadian actor Dan Aykroyd (who also starred in the Ghostbusters movies), made the generous donation to Carol Moller, longtime VFC treasurer. Cameron shared many favorable memories about Egon/Ramis who achieved so much in the comedy world, but was also notable for his outstanding reputation as a really decent person of solid character who went out of his way to help many others succeed in their entertainment careers, and life. Rest in peace Harold Ramis.