Sad News Regarding Donna and Bob Wall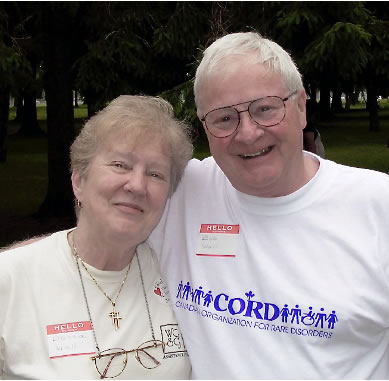 Sadly, both Donna and Bob Wall have passed away and only 3 days apart!
Donna passed on Monday 8.11.21 and Bob followed her on 11.11.21!
Donna and Bob were a true VFC team, and a life team, through and through!
Photo from 2002 at one of many picnics Donna and Bob were instrumental in organizing.
Unfortunately, we have sad news to share with you about the passing of Donna and Bob Wall. Whether, or not, you met Donna and Bob all of us were "touched" in some way, by both of them as it relates to the story of Vasculitis Foundation Canada (VFC), or perhaps your own vasculitis story.
It is unusual, but not unheard of, that when one life partner passes away the second life partner passes away a very short time afterwards. And that's exactly what happened recently with Donna passing on Monday at 82, and Bob passing away at 85 on Thursday!  In their latter years both battled numerous cancers which ultimately took their lives.
I met Donna and Bob just about 24 years ago in the fall of 1997 when the original five of us, Gary Timmons, Peter Gerry, myself and Donna and Bob Wall, met for the first time at Tim Horton's on Sheppard Ave. east in Toronto. At that meeting all of us decided that we should start an Ontario Wegener's Granulomatosis Support Group (WGSG), with a list of known patients from WGSG in Kansas City.  From that initial meeting grew a national organization and a registered Not-For-Profit Canadian Corporation, and the registered charity, that we know today as VFC.
From the moment Donna and Bob entered Tim's it was obvious to me, and others, that the two of them were a team and that Bob was 100% supportive of Donna.
Bob and Donna were married for over 60 years and were a formidable team who made many, many contributions to VFC over close to 20 years. They "stood up" after Peter Gerry passed away in September of 2001 and carried on with the day-to-day business of VFC.  Together they were instrumental in organizing many of the early VFC events including the first patient meeting in their Condo party room in early 1998.  For years we met regularly at the Cambridge Legion, and at the annual picnics (and then picnics and walks), in Riverside Park, also in Cambridge. And, they organized the venue for what we believe was the first genome wide DNA study of GPA patients in North America, and the first in the world to do large scale DNA collections on GPA families, with Dr. Kathy Siminovitch, which attracted hundreds of participants to the basement of Cambridge's Saint Peter's church in April of 2001.
In addition, Donna served as President for many years and invested a lot of time and energy in the success of VFC.  Bob supported her 100% and attended all her many doctor appointments and worked diligently in the background as her "sounding board" and was key in helping organize numerous VFC events.  They were a TEAM in every sense.
Donna and Bob became the "frontline" and "faces" of VFC, they fielded the VFC 800 line and made contacts with vasculitis patients in Canada and beyond over many years.  Donna took pride in helping formulate the four "C's" of the VFC mission and motto of: "care, control, cause, cure".
Donna and Bob leave an admirable VFC legacy, and their lives ended in an unusual, but fitting, manner – together!
And, true to form, they suggested that as an expression of sympathy donations to Vasculitis Foundation Canada, or Grand River Hospital Foundation – Cancer Centre would be appreciated. If you are "touched" by their passing you can donate to VFC, in their memory, at the VFC donation page on Canada Helps located here: https://www.canadahelps.org/en/charities/vasculitis-foundation-canada/
Donna's obituary is located here: https://www.henrywalser.com/memorials/donna-wall/4779392/index.php
Bob's obituary is located here: https://www.henrywalser.com/memorials/robert-wall/4784048/index.php
As the saying goes, they lived a life well lived, they may be gone – but never forgotten.  May they both rest together in peace.